Why Inward Remittances Are Crucial for Sri Lanka
23rd, September, 2022
Sri Lanka is a frontier market economy, heavily dependent on imports for essential everyday items. Thus, even though we have an exceptionally robust export sector, our balance of payments (BoP), and often balance of trade, are negative, meaning that we import on average more than we export. This means that, if we were to rely only on exports to generate dollars for our economy, with which to import our everyday essentials, we would naturally soon run out of dollars, much as we have.
This situation is, however, not unusual, and many frontier and even emerging market economies tend to be import dependent and run negative trade balances, particularly if they are net energy importers. Sri Lanka, for context, imports nearly all of its energy requirements in terms of fuel, oil, coal and gas, as we have been made all too aware of recently, to support our modern way of life.
Addressing the Balance of Payments Issue
While narrowing Sri Lanka's BoP, through the narrowing of the balance of trade, is arguably the most sustainable way of ensuring that we have enough dollars to fund our imports, there are many other ways available. In fact, it can be argued that for countries like Sri Lanka, narrowing the balance of trade alone is not necessarily the most efficient way to resolve the issue of foreign exchange and BoP deficits. In fact, exports are not the top source of dollars for Sri Lanka. Remittances and tourism are.
Unfortunately, as a result of the global pandemic, inflows from tourism have dried up. However, more alarming is the fact that inward worker remittances, which are the largest source of foreign exchange for Sri Lanka, have plummeted. However, this situation is anomalous as, since 2020, the number of migrant workers and Sri Lankans living and working abroad have only increased, not decreased. Still the amount of legitimate inward remittances has fallen dramatically year-on-year, down to a 10-year low in 2021.
Why Inward Remittances Have Dried Up
This, of course, was a result of poor policy decisions made during 2021, which made legitimate remittances uncompetitive, when compared with remittances made through informal channels, such as "undiyal" and "hawala" money changers and dealers, and numerous other methods. Since the 2nd quarter of 2022, the regulator and the government have taken steps to ensure fair market pricing and a floating currency. However, remittances still remain low, potentially due to people having become accustomed to remitting money informally, and because some formal channels are seen as more hassle by remitters.
It is this unfortunate situation, combined with the lack of tourists, that has compounded Sri Lanka's foreign exchange crisis and precipitated the present challenges that all Sri Lankans are facing and suffering as a result of. All while our export sector has posted modest growth in 2021, despite the challenges, and the balance of trade having narrowed as a result, supported by import controls.
Getting Remittances Flowing Again
Thus, the need of the hour is to attract and incentivize personal inward remittances through the formal channel, that is through banks or other licensed financial institutions. This is crucial because inward remittances that come through any other informal channel, are not reflected in Sri Lanka's overall foreign currency reserves. In fact, one can make the argument that, by remitting informally, Sri Lankans living and working abroad are unwittingly helping to fuel the vicious cycle that has led to the unimaginable queues and hardships that Sri Lanka is facing. While poor governance formed the cornerstone of this crisis, the situation has been wildly exacerbated as a result of dwindling inward remittances and plummeting tourist arrivals.
The following graph illustrates this situation clearly, in terms of remittances: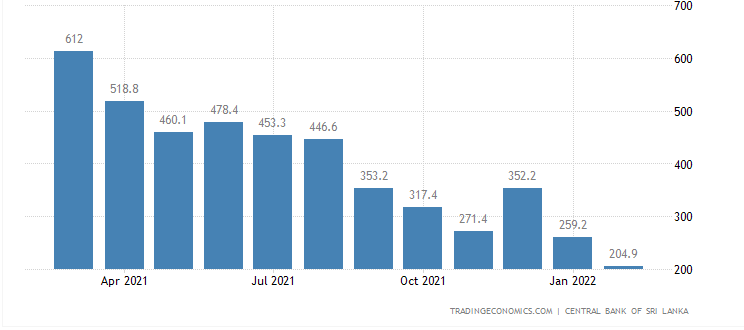 The story is similar for tourist arrivals: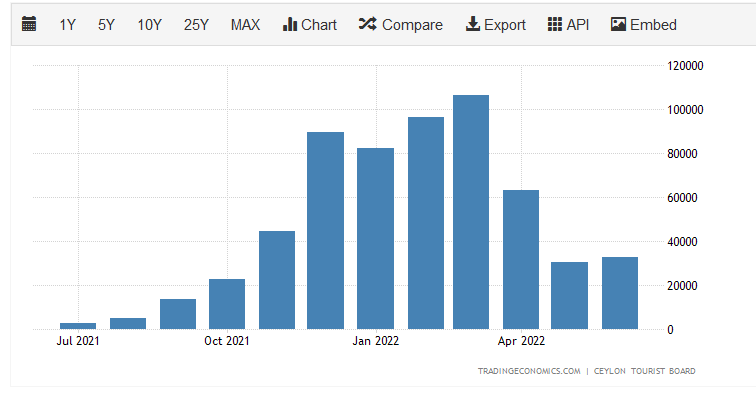 #SriLankaDollarChallenge
At this pivotal juncture, it is crucial that banks work together to encourage as many people as possible to send their remittances via formal channels. It is also further necessary to create awareness about the fact that, choosing informal channels right now would effectively be a disservice to all Sri Lankans as a whole, as we need to stand together at this time, even if the cost is a few rupees one way or the other on the exchange rate. The benefits that remitters can provide to Sri Lanka and all Sri Lankans, and enjoy themselves, by remitting legitimately, far exceeds this small, inconsequential cost.
To support this, we are extending our support to the #SriLankaDollar Challenge, while also providing exceptional benefits to our inward remittances customers, including competitive exchange rates and an additional incentive of LKR 2 /= per US Dollar. Further, we reimburse the transaction cost incurred for inward workers remittances, as a direct payment of LKR 1000 /- per transaction. In addition to this, we have entered into partnerships with a host of remittance houses and other fintech apps, to make remitting money to Sri Lanka via Seylan Bank, seamless and an absolute breeze.
As Sri Lanka's bank with a heart, we call on all Sri Lankans around the world to keep Sri Lanka in their hearts and help our nation come out of this crisis stronger than we went in, by making it a point to make all inward remittances through formal, legitimate channels only. This will enable remitters and their beneficiaries to take advantages of tax concessions, higher rates and other privileges, while enjoying the pride and legitimacy that comes with officially bringing foreign exchange to Sri Lanka.